With that said, I think I'll take a whack at friends only for a while... although I'll probably leave any baseball or skating entries (or other randomness) public . Feel free to comment if you'd like to be added :)
Oh, if I had a nickel for every time I started an entry in some way that insinuates that I have neglected LJ, I'd be on my way to a very full piggy bank. Wait, that's probably not true... I owe way too much to the dentist to ever have a full piggy bank. The truth is that I've been avoiding LJ entries for a while now because I'm thinking of going to the dark side... friends only. Or mostly friends only. It's paranoia I tell you... pure paranoia. While the logical part of my mind says "Hey, no one reads this anyway," there are definitely at least a few people I'd prefer didn't know what's on my mind. Turns out I'm reasonably easy to trace online, given that I've never taken too many pains to hide myself. Pretty much if you know my email address, then you know my screen name virtually everywhere but here. Geez, I'm predictable.
Current Mood:

quixotic

Current Music:

The Beatles - Lovely Rita
Hi everybody. I don't usually send these out to everyone on my list, BUT I'm currently in a contest to win a week with my favorite MLB team and I was hoping everyone could help me out by giving me some votes. Some of you may know that I've discovered a real passion for baseball and the Detroit Tigers thanks to years of my family being fans, so when I saw this contest advertised I figured it might be fun to enter.
Here's what you have to do in order to vote:
1. Go to
http://mlb.mlb.com/mlb/fan_forum/mastercard/index.jsp
(skip the ad on the front page if you can!)
2. In order to vote you'll need to register (sorry about that) so click on REGISTER on the top of the main page
3. Enter your info on the registration page then below that you'll need to scroll down to the "I would be a" contest, click on the three boxes that say you're read the rules, etc. and hit "SUMBIT"
4. Once you hit submit you'll be taken to a page that thanks you for registering - Now click the "GALLERY" button at the top of the page
5. Under the "sort by video" pull down menu on the "GALLERY" page select "POPULAR ENTRIES"
6. Right now my video is on the first page of the popular entries, listed as Tigers -- Melissa - if you play the video the first thing it will say is "My name is Melissa. I would be a Detroit Tiger…" (the sound and video may not link up… the site seems to be having some trouble with that on all of the videos)
7. To vote simply click on the red stars below the video - you can vote up to 10 ten times per day (so click on the stars below my video until it say "You can only vote 10 times per day") and voting on my video is open through Sunday.
Thanks!!
Melissa :)
Here's a message I sent out on my dreaded myspace account, simply because I want to win a contest and get to hang out with the Tigers. Who's desperate for votes??? Yes, that would be me!!:
Current Mood:

exhausted


This all comes from the fact that Paul, Ringo, Olivia and Yoko were on Larry King Live tonight (which I forgot the first time around but have managed to catch at midnight). So far it's been a great interview from the perspective that Paul and Ringo are... well, Fab. But Larry, Larry, Larry... the man is like a suspender clad train wreck. Not only did he call Ringo George (which Paul seemed to find quite amusing), but he also referred to Ringo as "The only other former living Beatle." I can't be the only one who thinks those words are in the wrong order as they make him sound rather not alive. It's a bit like when I call my gay ex-boyfriend my ex-gay boyfriend. (Trust me when I say he is most certainly not formerly gay.)

Also random... Yoko still looks rather young. What's with that? Maybe it's the odd little hat. LOL

And final randomness... I love that Paul and Ringo had sneakers on. I don't know why, but I find that rather cute.
Just a random thought: Larry King is not "all there"... if you know what I mean. I know the man is retiring but I really feel he should have retired many, many years ago.
Current Mood:

content

Current Music:

TV: Larry King Live
What am I doing up past 1:00 am when I should be asleep... especially when I promised myself I'd get to bed by 1:00-ish at least? Well, honestly, what self-respecting Tigers fan can sleep after watching Justin Verlander pitch a No Hitter?? I ask you that?!?

As a Tigers fan the whole idea of anyone on that team getting a No-No is great, but the fact that it was MY Tiger (and, ahem, not so secret crush) Verlander makes the day too exciting for my own good. All I can really say (mostly because I'm tired but don't want to admit it) is that THIS was some great game and some incredible pitching. And that's not even my bias talking.

During the Game One of the World Series last year, after some very bad innings, I posted the following entry, Who says there's no girly in baseball? in which I said Verlander really needed a hug... I'd say tonight more than made up for that night: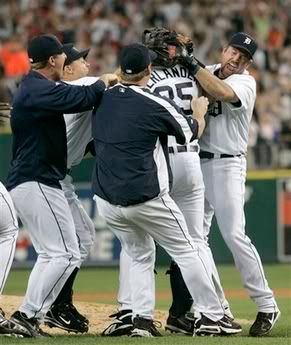 ( And now, since I picture spammed Verlander's worst night back in October, let's pic spam his best...Collapse )
Current Mood:

ecstatic

Current Music:

The Beatles - While My Guitar Gently Weeps
Current Location:

work :P

Current Mood:

sick

Current Music:

"Out of the Blue" - John Lennon
Go Joey!! (Dancing with the Stars has me this year simply because they are playing on my *NSYNC obsession of old)

And, while I'm at it, Go Verlander!! (My favorite Tiger is pitching tonight!!)
Current Mood:

happy

Current Music:

TV: Tigers Pregame Show
what else
Tigers goodies (a Verlander jersey, a cute hoodie, flip flops and a little stuffed monkey I really didn't need but had to have). Sometimes spending money is too fun. Actually, this is the second little spending spree I've been on in about a week... the first was a pajama spree at Kohls, where I bought these goodies:
pink pjs
,
blue striped pjs
, and a purple pair (which don't seem to be online). I also got a cute
robe
thanks to my mom. Woo hoo! Free stuff from mom is always a good thing!!
Hey, not that I'm justifying it or anything
(I'm totally justifying it)
but I was due a good spending spree or two, since I've been pretty good about using my money to pay my bills versus having any fun with it. I'll do my best to be better about not spending after this.
Oh wait... I just realized I'm off to see Champions on Ice in a week (Johnny! Johnny! Johnny!) and I'm guessing I'll buy a few things there too. So much for my paycheck :P
Time for ER.
Sad to say, but I'm delighted that Ugly Betty and Grey's weren't on tonight, partially because there's a Tigers game on and partially because it meant I could just hang around and play online (which I haven't really gotten much of a chance to do lately). First on my mental list of things to do online was finally placing my order with the MLB shop of
Current Mood:

anxious

Current Music:

Tigers game
'Knight Rider' Trans Am Up for Sale
... I'm sure the Hoff is counting his pennies as I type. I especially like this part of the article:
Most of the buttons don't do anything, Verhoek said. Nor can the car hold a conversation or drive itself.
Who would have guessed it didn't talk? Apparently, they've chosen not to stuff
William Daniels
in the trunk with a microphone.
Also, file this
chocolate sculpture of Jesus
under under "worst misuse of the title of a George Harrison song." I'm pretty sure George did NOT have a big chocolate Jesus in mind when he wrote My Sweet Lord.
Sometimes I'm greeted with the most random news updates when I log into my computer in the morning...
Current Location:

work :P

Current Mood:

grumpy

Current Music:

The Beatles - Besame Mucho (Decca Audition)
that often). At any rate, since I haven't come up with any particularly creative ideas, and because my Johnny layout was suspiciously Christmasy-sounding (even if the whole "Tis the season" thing meant skating season and not the Christmas season) I've gone generic. For the time being anyway. It's kind of meh :P so I doubt I'll stick with it too long.

On a side note, how much do I love the icon accompanying this post?!? My red Office Space stapler loves it too.
I needed a new layout. Honestly, how often do my posts say something like that? Probably far more often than they should considering I have a tendency to ignore my LJ from time to time (shhh... it's not
Current Mood:

curious

Current Music:

George Harrison - Soft Hearted Hana


"Hmm, I have too many things do do."
"What should I do first? Catch up on email? I do owe a lot of people email."

"Oh wait, I should send a message to that person from high school who sent me a message on myspace."
"Wait, I don't know what to say to her... can't say, hey how you doing... I'm jealous that you've had 3 books published."

"Maybe I'll look through that new learn how to play the ukulele book I bought and finally figure out how to play the uke I got for Christmas."
"Ahhh... no, that sounds like work and I... moving on..."

" I guess I could pay my bills... oh no, I don't want to do THAT."

"Gee, I can't decide what to do first."
"No really... what should I do first?"

"Forget it. I just won't do any of those things instead."

End scene ;)

Because, of course, NOT doing things solves the problem perfectly. [I'm rolling my eyes at myself.] I think it's a case of extreme procrastination but it really drives me nuts. Just do something already!!!
Ugh!! Sometimes I feel like I have the most annoying habit of doing nothing when I have free time. By that I mean that I have a conversations in my head that sounds a little something like this: